Whoop! Whoop!
We're up to tool #6 in #30daystorise.
Today is all about persistence. 'Cause it matters if you just won't quit. (See what I did there?)
Make this your theme song. Seriously.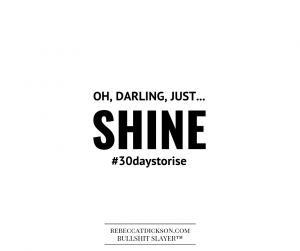 Tool #6: Be freakishly persistent
In August 1977, Woody Allen and Marshall Brickman were interviewed together by New York Times journalist Susan Braudy. The two had co-written the Oscar-winning screenplay for "Annie Hall."
During the interview, Brickman said, "I have learned one thing. As Woody says, 'Showing up is 80 percent of life.' Sometimes it's easier to hide home in bed. I've done both."
The simplicity and depth of those words is remarkable.
How many people stop after it gets hard? When results don't come fast enough? Or not in the way we planned?
How many fall into the depths of mental hell, full of despair, dashed hopes and self-pity?
It's easy to stay in bed. Anyone can do that.
It's much harder to actually have your own back.
The truth is life happens and we often have zero control over shitty events and outcomes. But we always get to choose whether or not we show up.
If you have the patience and persistence to move through difficulty, you will eventually win. (Again, it matters if you just won't quit.)
How many people start online businesses and close up shop in less than year? How many podcasts, blogs, YouTube channels are started, and just as suddenly stopped?
But if you keep taking steps – especially when you don't feel like it – you'll regain momentum.
How to know if you are using this tool:
In your life, where have you given up too early?
Right now, what circumstances or events are hard to deal with? Are you thinking about walking away?
How to implement this tool:
Your task today is simple: Remind yourself you won't stop. No matter what, you will show up. All in is all in is all in.
– Becky
P.S. Game-Changer starts April 8. This is my brand new 12-week program, where I help you create use tools like this to craft a bulletproof success mindset. It's for serious players. Once you master yourself, and commit to showing up as you 100% of the time, you can't lose. Check it out. Doors close in less than two weeks.
P.P.S. If you haven't yet, be sure to join my private Facebook community, Tune In. Turn On., where I show up live to go in-depth with everything I'm sharing in the series.
https://rebeccatdickson.com/wp-content/uploads/2021/06/Logo_signature_06182021.jpg
0
0
Rebecca T. Dickson
https://rebeccatdickson.com/wp-content/uploads/2021/06/Logo_signature_06182021.jpg
Rebecca T. Dickson
2019-03-18 09:00:30
2019-03-10 16:36:41
Don't Stop Now