Your relationship with the blank page
So, I stumbled across this slideshow by Mark Sherbin a few weeks ago and it struck me as fucking fantastical. Particularly for YOU. It's called "The Marketer's Guide to Writing A Book," but it applies to every writer.
My unabashed goal is to help writers write. Whether that means pushing through fear or shattering bullshit excuses, you come here for advice. We have a nifty system going. Anyway, Mark's slideshow talks about those things, as well as ways to generate content, stop freaking out, and settle into the idea that you can do it.
I like it. A lot. And you will too.
"You're used to the blank page. You've maybe even grown quite fond of it. Like all strong relationships, you've had your ups and downs. But the two of you are together, for better or for worse," Mark says. "There's one line you won't cross. Whatever unstructured ideas fill your white board or word processor page, you refuse to call it the start of a book. The very thought of writing a book, in fact, makes your mind shut off and your pen go dry."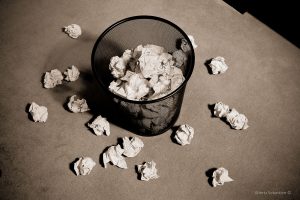 For the record, I asked Mark to get his ass over here and guest post about this. But he's so freaking busy writing other people's books, he couldn't do it for a few weeks. I didn't want you to wait that long, so he gave me the green light to share it.
It's also worth noting that I despise slideshows because they are typically boring as fuck and don't give enough information on their own – without the speaker present to fill in the gaps. That is NOT the case this time.
Consider slide #6: "You don't need to make any commitment whatsoever. You barely even have to try. You've always had more than the chops to write a your own book — you've had the content."
Or slide #10: "Imagine walking into a meeting and fielding a question with, 'Actually, we wrote the book on that.' "
The remainder of the presentation talks about the content you already have – but don't know about – and how to shape it into YOUR BOOK.
"Your existing content is an enormous start that cuts out those pesky first steps that haunt the nightmares of so many first-time authors. But it will only get you so far," he says. "You'll notice something missing. Actually, you'll notice lots of things missing. At this point, you just need to fill in that missing information. This is actually pretty easy…"
Go here to check it out. And let me know what you think.
***
Mark Sherbin is a freelance writer living in San Francisco. You can reach him via Twitter,  LinkedIn, or email.  
http://rebeccatdickson.com/wp-content/uploads/2012/11/Becky-header3.jpg
720
1800
Rebecca T. Dickson
https://rebeccatdickson.com/wp-content/uploads/2021/06/Logo_signature_06182021.jpg
Rebecca T. Dickson
2013-10-17 10:36:19
2014-08-10 19:53:14
Your relationship with the blank page