Are you actually a successful owner or do you just play one when it's convenient?
I know you are looking for the break that will catapult you into success – because my inbox is full of emails asking me to reopen CCC to get you to the next level. We all want to earn the money we deserve in a business that sends tremors through our legs.
That's why I'm reopening the doors for 48 HOURS ONLY.
You tugged at my secret soft side, you little vixens.
On Jan. 14th, CCC begins.
That means enrollment is open now for exactly 48 hours. You have two days to sign up, making the decision to change your life forever.
Now take a deep breath and keep reading.
You deserve to have a business that gets you so damn excited you practically jump out of bed in the morning…to check your email and your bank balance.
You deserve to enjoy the freedom that comes from running your own biz because you're not chained to your laptop every waking moment, hustling to get by.
And above all, you deserve to feel wildly confident doing your thing, at prices you love that support the life YOU want to live.
The CCC curriculum helps you dig into blocks and struggles so you can finally let them go.
We tackle everything from client clarity to money mindset, from writing jaw-dropping sales pages to marketing techniques the experts use – and how THE THOUGHTS YOU THINK affect all of that.
I'm talking tried-and-true tips and tricks that will save you time and aggravation and hours and dollars over figuring it out on your own.
That's a lot of saving.

When you join, you'll receive LIFETIME access to 12 weeks of hard-won lessons from myself and a slew of other industry leaders, including weekly group calls with laser-coaching from me, workbooks, done-for-you templates, sample session wrap-up emails, testimonial requests, opt-in creation and SO MUCH MORE.
Here's the list of additional bonuses:
Three 1:1 coaching sessions with Becky's team

(Value: $3,000)

Full ON Facebook ads training

with expert Marya Jan (Value: $2000)

90 days inside Becky's membership community, MORE,

for powerful mindset shifts, plus monthly live calls (Value: $600)

Manifest NOW 2.0

This BRAND NEW class was only taught live once, in September 2018 (Value: $597)

The Doer's Guide

, how to execute anything 90 days at a time (Value: $197)

Unshakable Confidence

workbook (Value: $197)

A Woman's Voice

, month-long audio training on how to SHOW UP and sell (Value: $197)
→ That's almost $6800 in bonuses. ←
Whatever block or fear is keeping you from making it in business will be crushed in the first weeks of CCC. Annihilated. Adios.
By the end, you'll finally look like the pro you are – one who feels fucking fabulous about earning a metric ton of money working from her place of genius.
How badass is that?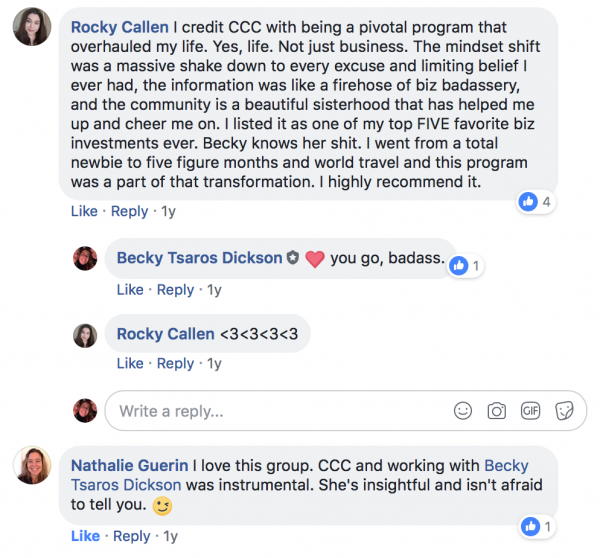 Sign up for CCC before Jan. 5th in order to get $6800 in bonuses so you can learn how to show up like a pro, change the way you think forever and create a life you love. And all that happens before we even start the main course.
See you inside.
XO
– Becky
https://rebeccatdickson.com/wp-content/uploads/2021/06/Logo_signature_06182021.jpg
0
0
Becky
https://rebeccatdickson.com/wp-content/uploads/2021/06/Logo_signature_06182021.jpg
Becky
2019-01-03 07:00:38
2018-12-03 07:25:03
Let me share one of my dirtiest, darkest little secrets…