I'm back with the eighth tool inside #30daystorise – only two left.
You want raving fans who believe in your work? You better be someone worth paying attention to. This email series is full of the tools the most successful people in the world use to stay on top.
It starts with you. Get your mind right and you're unstoppable.
Today, we're talking about your innate strengths.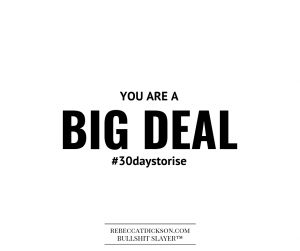 Tool #8: Build on strength
If you're in business, you already know what your unique strengths are, your innate gifts and talents. They are the drivers for your business.
If you're great with words but not fabulous on video, it would be wise to write the damn book instead of produce the television show.
If you're deeply intuitive but struggle with the practical, it would be wise to to do work that highlights your strength (like 1:1 work), rather than create a group program that requires lots of technical shit on the back end.
When you approach creating programs and services from this place, it gets (a lot) easier.
Your innate gifts and talents can and should be leveraged.
No one said you have to have a membership site. So if you don't have a team or a tech background, don't do it yet.
No one said you have to offer private 1:1 sessions. So if you aren't in love with going deep with a client, don't.
Maybe your jam is group programs with a detailed system. Maybe you light up creating courses to sell passively, because your strength is research and writing.
Whatever you're good at, use it to your advantage.
How to know if you are using this tool:
What are your natural strengths?
In what ways are you unique, special or gifted?
Are you using those in your business services and programs?
How to implement this tool:
Take inventory of your strengths.
Identify any of the ways you may be limiting your ability to let those strengths shine. (Like trying to fit into someone else's idea of the "right" way to offer services.)
Identify at least three things you can do to highlight your strengths.
Only a few seats remain for Game-Changer. We start in two weeks. Inside, I'll help you identify with precision exactly what your strengths are, what your weaknesses are, and how to use this awareness to dominate your industry.
This program is about to set the standard for success mindset training. You can quote me on that. Go check it out.
– Becky
https://rebeccatdickson.com/wp-content/uploads/2016/11/becksterlogo2.png
0
0
Rebecca T. Dickson
https://rebeccatdickson.com/wp-content/uploads/2016/11/becksterlogo2.png
Rebecca T. Dickson
2019-03-25 09:00:25
2019-03-24 18:14:44
What you already have going on
We're more than halfway through #30daystorise – a 30-Day opportunity for you to actually walk your talk, rise up and claim the life and business you say you want.
Less than two weeks until doors close on my new program, Game-Changer, where you learn to build a bulletproof mindset, and stake your claim in your industry.
The truth is you do know how, you are an expert and your bullshit fear is holding you back.
Today, we're talking about procrastination – and how to do it the right way.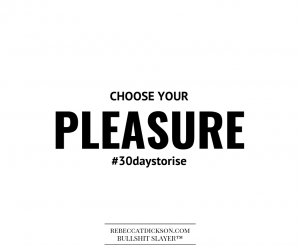 Tool #7: Procrastinate (the right way)
Women are rockstars at nurturing others. The majority actually get off on taking care of their loved ones. We like being needed – and for the most part, we have no problem ignoring our own needs in favor of someone else's.
I'm NOT saying all women are built this way. But 99% of the women I have served in the last 11 years operate from that place.
We can talk about the cultural catastrophe that created that later.
Today, I want you to notice something important: In general, we have no problem ignoring our own needs in favor of someone else's.
This is a two-fold issue for the woman entrepreneur.
1 – You are your business. So if you're not well-rested, well-fed and feeling good, you aren't at full power. Meaning, you aren't serving your clients at your best and you're definitely not showing up at your best. (Hello, visibility.)
2 – I repeat: You are your business. So if you are neglecting yourself, you are automatically neglecting your business. You're not putting out your best content or being your best as a coach. You're being as mindful of your finances, staff, social media presence, and a million other little things that slip through the cracks when we're tired and cranky.
Ergo, if you're serious about dominating your industry, you have to learn to say no.
Let me be extraordinarily clear: I am NOT advocating you don't feed your kids. They put people in jail for that shit.
But you can certainly say no to some things. I used to hang a sign on my office door: "Mom is busy. Do not knock unless it's an emergency."And you can say no to parties, TV, mindless scrolling on social media, and even dinner out with a spouse when you know you have a deadline looming.
I don't regret missing a TV series or a spontaneous night out with friends. But I DO regret the times I could have worked a little bit harder, spent a little more time bettering myself – choosing to put me and my goals first.
Say no to the things that don't matter. Procrastinate THOSE things. Invest fully in yourself now. Because you will regret not having the results if you don't.
How to know if you have this tool:
What did you do this week that won't matter in several years (or even next week)?
How often do you say no to things that don't matter?
How often do you put off working on your business because someone else "needs" you?
How to implement this tool:
Make a list of all the activities you participate in that aren't going anywhere. (Movies, parties, dishes, things someone else can handle for you.)
Next write a list of things that you know must take priority NOW – and look at it often.
Every day, question what you're doing. Which list is it on? You don't want to be looking back, regretting what you could have done.
You have 14 days until Game-Changer closes. Make sure you invest in yourself, stretch, grow, learn and become a better version of you. Don't try to do it alone.
I'll walk you through building a bulletproof success mindset, step by step. It's about having a plan and a system to guide you. It's about breaking down old patterns, holding yourself accountable and consistently choosing to rise.
Let's make it happen.
Get a spot in Game-Changer here.
– Becky
https://rebeccatdickson.com/wp-content/uploads/2016/11/becksterlogo2.png
0
0
Rebecca T. Dickson
https://rebeccatdickson.com/wp-content/uploads/2016/11/becksterlogo2.png
Rebecca T. Dickson
2019-03-21 09:00:25
2019-03-10 16:39:07
You Are Your Business