It's time for the LAST TOOL inside #30daystorise.
You have 7 days until Game-Changer closes. Make sure you invest in yourself, stretch, grow, learn and become a better version of you. Don't try to do it alone.
Let's make it happen.
Today, we're talking about action curing fear.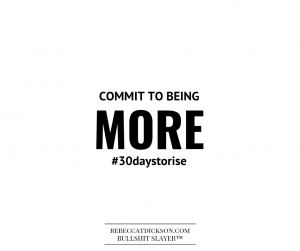 Tool #10: Move with SPEED
Most people think too much and do too little.
They wait for approval.They wait for the right time.They wait for a sign from the universe, or planetary alignment. (Yes, I've heard both of those from my clients.)
And they hope someone else will tell magically show up to them they are worthy of what they want. That it's okay to go after it.
None of which ever happens.
Here's the truth: If you want it, you need to move NOW.
Action cures fear every damn time.
Trust me. I was agoraphobic and had panic disorder. Sitting around thinking about my fear never did a thing for me. But when I got up and took action anyway, the fear dissipated.
Here's the point: You are not going to get anywhere by reading emails, buying books, listening to podcasts or scrolling through social media.
Today is the last day of #30daystorise.
What did you learn this month that you can apply every day to get you where you want to be?
If you don't choose to take action, you will be in the same place next year, contemplating what you could have done or should have done, in order to reach your goals.
That shit burns.
Planning is nice. Planning is important. But what's far more important is choosing to DO SOMETHING.
How to know if you have this tool:
Every woman I've ever worked with already knew what she had to do before I worked with her. She just didn't do it because she was afraid. Soooooooo, what do you know you need to do today to get you better results?
What have you been putting off?
What have you been thinking about doing, but have yet to act on?
How to implement this tool:
Pick something and go do it. Today.
After you do that, notice how that one step can create momentum. You feel good. You're open to what's next.
You can choose that feeling every day. Get up and do something.
If you've been thinking about joining Game-Changer, this is the time.
Game-Changer is for women who are done with their bullshit and more than ready to build a rock-solid success mindset.
No more waiting. Doors close in less than a week and only two seats remain. Apply here.
– Becky
https://rebeccatdickson.com/wp-content/uploads/2016/11/becksterlogo2.png
0
0
Rebecca T. Dickson
https://rebeccatdickson.com/wp-content/uploads/2016/11/becksterlogo2.png
Rebecca T. Dickson
2019-04-01 09:00:04
2019-03-29 21:25:41
Move your a$$
I'm back with the ninth tool inside #30daystorise – only ONE left.
You want raving fans people who believe in your work? It starts with you. These are the tools to get your mind right, and to continuously grow, scale and serve millions (and make millions too).
Today, we're talking about risks.
---
Tool #9: Take Risks
Did you hear Lady Gaga's acceptance speech at the Oscars late last month?
"It's not about winning. What it's about is not giving up. If you have a dream, fight for
it… It's about how many times you are brave and you stand up and you fight for it."
Obviously, Gaga is wildly successful by any measure. But we love her because she is human AF and she shares her struggles.
Study her story and you will realize how many risks she took to get where she is.
Risk #1: In 2003, at age 17, she gained early admission to Collaborative Arts Project 21, a music school at NYU's Tisch School of the Arts.
Risk #2: In her second semester sophomore year, she dropped out to focus on her music career.
Risk #3: Two years later, when Def Jam Recordings canceled her contract, she worked as a songwriter for Sony/ATV Music Publishing. She then signed a joint deal with Interscope Records. That was in 2007, the year she would have finished college – if she had played by the rules.
Risk #4: Do I need to mention her wardrobe? The meat suit.
In 2008, she exploded. "Fame Monster" took over.
Through it all, she dealt with fibromyalgia, chronic pain, PTSD, suicidal thoughts and was raped.
Yet she consistently made decisions to do things her way. Saying no to anyone who tried to tell her what to do or how to do it.
Today's lesson: Calculated risks get you further, faster.
You will not get where you want to be by staying inside the lines. No one ever hit the big time – in any arena – by doing what everyone else does, the same way everyone else does it.
This does not mean I advocate recklessness and arrogance. It means you must take advantage of opportunities when they come. And make moves quickly, based on your goals.
How to know if you are using this tool:
How many opportunities do you regret not taking advantage of?
How often do you procrastinate on what you know you need to do?
How to implement this tool:
Identify one important decision you've been putting off.
Make the decision today.
If you're at a point in your career where you know that you aren't doing enough…
You know that you need to be more disciplined and on purpose…
Then one of the risks you need to take is investing in a mentor.
Game-Changer is my three-month intense mentoring program, designed to help you establish clear vision, clarify goals, make plans and execute like a true high-performer.
You receive more than 18 hours of live training with me, access to my best success mindset strategies, and unlimited access to me inside a private Facebook community. All of it is designed to help you dominate your industry.
Only 10 days left to reserve a seat. Take a risk. Bet on YOU.
– Becky
P.S. Eleven years ago, the risk I knew I needed to take was to quit my job as a reporter. It was really hard before it was easy. But what allowed me to get where I am now is better thinking (NOT strategy).
Inside Game-Changer, I show you every one of the mindset tools I used to overcome anxiety, PTSD and agoraphobia — and ultimately build a multiple 7-figure empire. THEN I personally help you integrate these habits into your own life.
---
https://rebeccatdickson.com/wp-content/uploads/2016/11/becksterlogo2.png
0
0
Rebecca T. Dickson
https://rebeccatdickson.com/wp-content/uploads/2016/11/becksterlogo2.png
Rebecca T. Dickson
2019-03-28 09:00:31
2019-03-28 11:32:27
Lean into risk