Today, we're talking about influence, and how you can't do it if you don't know yourself.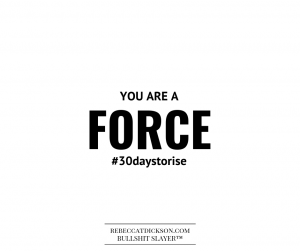 Tool #2: It's not about them (aka: Own your shit)
Most of the emotional pain I've been through in my life comes from other people. Or rather, my REACTION to other people.
I used to tell myself things like:
"Why can't he just get it?"
"She doesn't understand me."
"Wow, that guy was an ass."
Here's the thing, though…
Wishing other people were different is a sign of emotional immaturity on OUR part.
Instead of hoping they understand you, or constantly being triggered by someone else's behavior, work on your own emotional resilience.
Look inward and ask yourself why you are allowing your emotions to be controlled by other people.
True mastery is high emotional intelligence – a harbinger of the modern leader, by the way.
How to know if you are using this tool:
How often do you get frustrated or angry with a client, or friend, or someone you see online?
Why do you get frustrated or angry?
How often do you complain about how someone else is behaving?
How confident do you feel in your ability to lead and influence, despite how people may or may not behave?
How to implement this tool:
If you are constantly triggered by what's going on around you,

 

you're weak-minded.

 

It's time to do some internal work on how you became so vulnerable to what other people think, say or do.
Complaining about how others behave is a sign we are losing our focus and abdicating responsibility. We are believing, in those moments, that somehow those people are responsible for our feelings. Which is bullshit. No one can make you feel anything. Only you can do that.
Leading and influencing require high emotional intelligence. So, if you're someone who loses her shit when things don't turn out, or when someone replies with snark, that means you are leaving your rational mind and becoming emotional. The moment you become emotional, you lose your seat of power. Logic is gone and we begin reacting (not choosing thoughtful, intelligent responses).

 

And no one can lead from a reactionary place.
True leadership and Influence is complicated and fluid.
You've got to know yourself if you want to attract raving fans and guide them to better lives.
You have to take responsibility for your own emotions and own your shit before anyone will buy into your message and you as a leader. Which is why influence is an art.
If you haven't yet, be sure to join my private Facebook community, Tune In. Turn On., where I am LIVE twice a week going in-depth on these tools.
– Becky
P.S. Implementing these tools requires persistence and consistency. Building a bulletproof mindset, and staking your claim in your industry, requires time and effort. If you know what you're doing isn't working, apply for a seat in my new 90-program, Game-Changer. 
Seats are limited and the time is now.
https://rebeccatdickson.com/wp-content/uploads/2021/06/Logo_signature_06182021.jpg
0
0
Rebecca T. Dickson
https://rebeccatdickson.com/wp-content/uploads/2021/06/Logo_signature_06182021.jpg
Rebecca T. Dickson
2019-03-04 11:06:14
2019-03-04 11:31:54
Influence is an art