So I wrote this post about Crap someone should have told you writers by now. And my website sort of blew up. Then I thought: Well, fuck me, why not a poster?
Voila.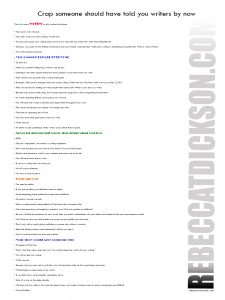 Click on the image at left and it will enlarge in a new window.
The posters are 18 inches by 24 inches, printed on classy 100-pound matte paper.
Frame it. Glue it. Tack it. Paste the sucker to your monitor.
Mailing tubes protect their awesomeness. Want a personal note from moi? Mention it in checkout and IT SHALL BE DONE.
Price: $20.00 USD
Oh, and the price includes shipping in the U.S.
Get one for:
• The writer in your life. Duh.
• Yourself.
• Your subscribers. Excellent SWAG, peeps.
Shipping skinny:
• Price includes shipping in the U.S.
• $11 extra for my Canadian pals. Eh?
• UK and Australia, $13 to get it there.
UNAVAILABLE – SOLD OUT.
https://rebeccatdickson.com/wp-content/uploads/2013/09/writer_poster-18by24.jpg
1728
1296
Rebecca T. Dickson
https://rebeccatdickson.com/wp-content/uploads/2021/06/Logo_signature_06182021.jpg
Rebecca T. Dickson
2013-09-16 09:31:30
2015-01-18 00:21:34
The POSTER – Crap someone should have told you writers by now