Today, we continue on the journey of self-mastery. It's time for tool #5 in my arsenal for developing a bulletproof success mindset.
This month-long experience – dubbed #30daystorise – was created to arm you with the knowledge and skills necessary to become the industry leader and dominant force you say you want to be as a woman entrepreneur.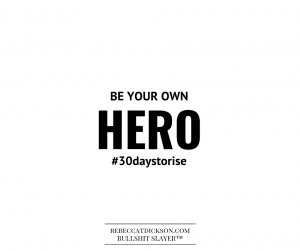 Tool #5: Study failure
"Instead of looking for success, make a list of how to fail instead – through sloth, envy,
resentment, self-pity, entitlement, all the mental habits of self-defeat. Avoid these 
qualities and you will succeed." – Charlie Munger
The point?
Any idiot can see what's not working and where to improve.
Precious few have the ability to be honest about how they self-sabotage, act like victims or participate in their own failure.
And frankly, how many people online today are shouting from the rooftops that they have the "right" thing to get you to the next level?
Stop looking outside of you for the answer.
Instead, take a hard look at all the things we shouldn't do. Let's pay attention to where we've gone off track in the past. How have we screwed up?
Study your failures, dig up the reasons for the failures, and commit to not making those mistakes again.
Then study the failures of others in your industry.
Eliminate those mistakes and you'll be surprised at how much focus and clarity you gain. (Which leads to motivation, momentum and success.)
How to know if you are using this tool:
What are the mistakes people in your industry make that prevent them from getting the goal?
How many of those mistakes do you frequently commit?
Where do you sabotage yourself?
Why do you keep repeating these mistakes/self-sabotage mechanisms?
What do you need to do now?
How to implement this tool:
Make a list of the most deadly mistakes.
Avoid them at all costs.
If fear, self-doubt and self-judgement are not on your list of mistakes, go back to the drawing board. Those three literally ARE deadly. They decapitate motivation, make you feel like crap, convince you that you cannot do it and prevent you from moving forward.
– Becky
P.S. We've already received more than a dozen applications for Game-Changer, my brand new 12-week program where I help you create your blueprint for a bulletproof success mindset. Seats are VERY limited. We start April 8. Go check it out.
https://rebeccatdickson.com/wp-content/uploads/2021/06/Logo_signature_06182021.jpg
0
0
Rebecca T. Dickson
https://rebeccatdickson.com/wp-content/uploads/2021/06/Logo_signature_06182021.jpg
Rebecca T. Dickson
2019-03-14 09:00:11
2019-03-10 16:36:18
Study Failure