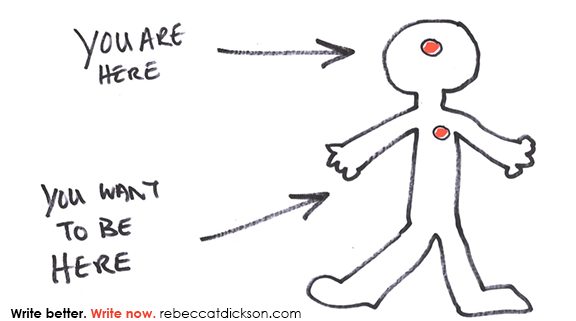 3 Tips to De-clutter Your Second Draft
Is your house spotless? Your writing probably isn't either. The common flaw? Clutter.
In William Zinsser's classic, On Writing Well, he describes clutter as the disease of American writing, claiming we here in the USA are "a society strangling in unnecessary words, circular constructions, pompous frills, and meaningless jargon."
Dude knows his shit.
House needs cleaning. So does your writing. Step away from your first draft before you begin the cleanup and you'll be much happier with the result: a clean, easy to read and remember second draft. Here are three tips to de-clutter your second draft.
Remove "there is," "there are," "there was," "there were," "there will be" and "there have been."
These phrases mean next to nothing and they overload your sentences. Think of them as empty calories.
They're clutter, people, and we all know the longer you let clutter sit, the thicker it gets. If you want to avoid hours of maintenance, try to remove these phrases before it's too late.
Cluttered: There is a man at the window.
Less is more. Readers want writers to show them what's happening without using more words than necessary. Remove "there is" from the beginning.
Clean: A man is at the window.
By taking out "there is," I also had to replace the verb. In the clean version, I switched where the verb "is" sits. He is at the window. Simple, right?
Let's take it a step further and replace the boring verb "is".
Cleanest: A man peered inside the window.
In the clean example, we only know the man is at the window. That tells us something, but shows us nothing. In the cleanest example, the unnecessary words are gone and I'm using an active verb. I'm showing the reader more than either of the previous sentences.
Best part? We cleaned it up and showed the reader with fewer words. BOOM.
Let's look at another example:
Cluttered: There was an eerie calm in the air above where she stood.
Clean: There was An eerie calm was in the air above where she stood.
Cleanest: An eerie calm was lingered over her in the air above where she stood.
Now it's your turn to try.
Cluttered: There are bright lights at the end of the street.
Pro tip 1: Look for the removable clause – the "there" phrase. Then determine where to replace the verb.
Clean: ___________________________________________
Once you've done this, you'll come up with something like…
Bright lights are at the end of the street.
Pro tip 2: Revise more and aim for the cleanest copy. Replace the inactive verb ("are") with an active one. Try it here:
Cleanest: _________________________________________.
Something like …
Bright lights sparkled at the street's end.
By axing "are" and inserting "sparkled," I show more with less words.
I love this game.
Writing complications can always be fixed. If you put effort into revising boring sentences, you'll surprise yourself – and your readers – with how good cleaning feels.
• • •
P.S. The awesome cell phone app, Write Raw is out on Google Play for your Droid or the App Store for iPhone. It's like having power cards delivered to you every day – FREE. And don't forget to leave an app review.
P.P.S. The entire app image collection also lives on Pinterest. (We add more as they are released.)
http://rebeccatdickson.com/wp-content/uploads/2012/12/final_youarehere_sm.jpg
334
576
Rebecca T. Dickson
https://rebeccatdickson.com/wp-content/uploads/2021/06/Logo_signature_06182021.jpg
Rebecca T. Dickson
2014-07-15 09:05:33
2014-08-10 17:02:48
3 Tips to De-clutter Your Second Draft