Socially Conscious. Globally restorative.
*
We are lovers of the Earth and all Her magic.
*
Global healing is a large piece of our mission at Witchy Women. We are grateful to do our part to restore and protect Her.
Your purchase supports The White Feather Foundation, a charity created by Julian Lennon to support projects across the globe, including protecting and preserving indigenous cultures, conserving and sustaining our environment, and giving access to clean water.
We created this line of candles and smudge kits for The White Feather Foundation, calling forward and honoring the four elements of our planet, and bringing in a fifth – dreams.
For it is only through dreams that we imagine and bring forth a healthier planet.
The elements are proxies for the universal power within you.
When you light one of these candles, you connect with the energy of nature and invite the elements – and their power – into your home.
Every element has consciousness. Access it here.
Listen.
Feel.
Intuit.
Put them on your altar.
They have messages for you.
The elements are the roots by which all things come into being.
As you are made up of the four elements, you use the powers of the four sacred directions – North, South, East and West – to guide and protect the planet.
Our products are made for you with love, to help your journey on Earth.
Below are the four newest creations, ONLY AVAILABLE until Christmas.
Sun, Moon, Ocean and Forest candles are organic, hand-poured and include only the highest quality herbs and wax, along with the potent energy we infuse them with.
The element of fire fuels the soul with courage and strength, especially when dealing with large goals or things we are passionate about.
Fire brings adventure, action, enthusiasm and increases willpower.
This element is gives its own light and is known for its transformative powers.
Light these candles to help you release fear, ignite passion, face challenges and tackle what you want most.
Check out the magic in these candles here.
The element of water is critical to keep your intuition sharp and your emotional health in check.
Drink, bathe, dance in the rain, eat fruit and vegetables with high water content.
This element reshapes, pulls and bends light through reflection and transmission. It is a magnetic force that draws things to you.
Light these candles to connect with water by feeling its energy flow through you. Water gets things – and emotions – unstuck, and helps us deeply connect with our intuition and manifestations.
Check out the magic in these candles here.
The element of air brings us wisdom, freedom, intuition and flexibility.
It reminds us to breathe mindfully, resetting our nervous systems to our natural state of calm and relaxation.
This element moves and spreads through all planes of reality. It's a a subtle energy, but also a distributive force that expands or diffuses based on its environment. It conveys light and acts as an agent for fire and water to interact.
Light these candles to gain mental clarity, inner guidance, physical vitality, creativity and optimism.
Check out the magic in these candles here.
We have forgotten our place in relation to this planet we call home. Becoming more connected with and reverent of Earth is our sacred duty.
Her resources and wonders are finite. Our appreciation of them need never be.
If you feel empty, alone or powerless, get back to Earth. She will guide you and ground you to safety within yourself.
This element brings things together. It blocks, absorbs and reflects light, transmuting and shifting perceptions.
Light these candles to invite the energy of Earth to inspire, protect, heal and stay grounded.
Check out the magic in these candles here.
Dreams are where we imagine a better, healthier Earth, where people respect all of Nature and Its creatures.
And it is only through dreaming that we begin to envision the actions we can take to make dreams reality.
Dreams represent the power of transmutation, of unity and differentiation. They form a web of all creation.
Light these candles to invite inspiration, fresh ideas, peaceful sleep and deep transformation.
Check out the magic in these candles here.
White sage is a sacred plant that has been used for centuries by every civilization, going back at least as far as ancient Rome an Egypt.
Native Americans burn it in ceremony for purification and cleansing. Celtic Druids and European witches used sage smoke for the same purpose.
When you burn sage (fire), and use the shell (water) to catch hot ash, the feather (air) to spread the smoke, and the selenite tower (earth) to purify, you are combining all four elements. This is a practice to be revered.
Our sage sticks are organic and farm-raised – NOT taken from the wild, where the plant is under threat of being endangered from over-harvesting.
The same applies to our Abalone shells; they are farm-raised so as not to impact the wild mollusk population.
Feathers come from our own geese and ducks, who naturally molt them all over our farm. Selenite towers are ethically sourced.
Check out the magic in these kits here.
Check out The White Feather Foundation's interview with Rebecca here.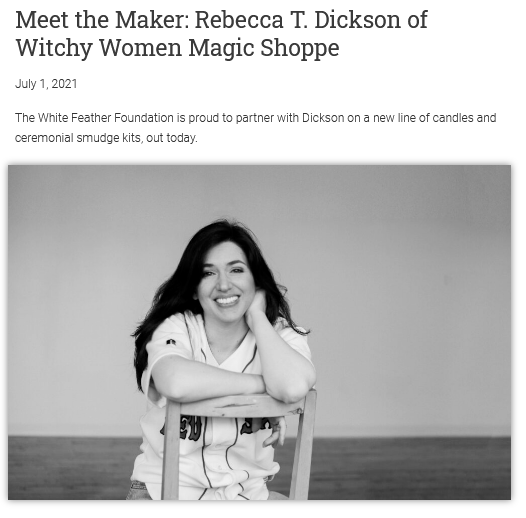 Witchy Women is a woman-owned, ethical, sustainable and philanthropic metaphysical supply shoppe. Our mission is to support healing, growth and restoration of people and the planet.
All our handmade products are infused with frequency 528 – the frequency of miracles and love – thought to resonate at the core of everything. It connects the heart and spirit with Divine Harmony.
This sound has been used since ancient civilizations to manifest miracles, bring blessings, and harness a healing property. It is now available to you in every candle, oil, potion, herbal blend, spray, soap or salt.
All candles are small batch, hand-poured, with 100% organic soy wax for a clean burn, and organic pure essential oils. No phthalates, dyes, paraffin or preservatives.
NOTE: Products may contain ingredients that could be poisonous to animals and/or humans. Do not ingest, keep away from human and fur babies. 
The law requires we indicate our products are sold as curios. For External Use Only.
We cannot guarantee the expected results. All metaphysical products are based on faith, and they should never be a substitute for medical care. Never leave a candle unattended. Always handle fire with care. Neither Rebecca T. Dickson Inc. nor The White Feather Foundation is legally responsible for any damage or injury that may result from the use of these products. By purchasing our products you are agreeing to the above terms.

We aim to keep our environmental impact small. This includes recycling shipping materials whenever possible.