I'm back with the eighth tool inside #30daystorise – only two left.
You want raving fans who believe in your work? You better be someone worth paying attention to. This email series is full of the tools the most successful people in the world use to stay on top.
It starts with you. Get your mind right and you're unstoppable.
Today, we're talking about your innate strengths.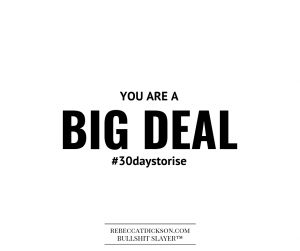 Tool #8: Build on strength
If you're in business, you already know what your unique strengths are, your innate gifts and talents. They are the drivers for your business.
If you're great with words but not fabulous on video, it would be wise to write the damn book instead of produce the television show.
If you're deeply intuitive but struggle with the practical, it would be wise to to do work that highlights your strength (like 1:1 work), rather than create a group program that requires lots of technical shit on the back end.
When you approach creating programs and services from this place, it gets (a lot) easier.
Your innate gifts and talents can and should be leveraged.
No one said you have to have a membership site. So if you don't have a team or a tech background, don't do it yet.
No one said you have to offer private 1:1 sessions. So if you aren't in love with going deep with a client, don't.
Maybe your jam is group programs with a detailed system. Maybe you light up creating courses to sell passively, because your strength is research and writing.
Whatever you're good at, use it to your advantage.
How to know if you are using this tool:
What are your natural strengths?
In what ways are you unique, special or gifted?
Are you using those in your business services and programs?
How to implement this tool:
Take inventory of your strengths.
Identify any of the ways you may be limiting your ability to let those strengths shine. (Like trying to fit into someone else's idea of the "right" way to offer services.)
Identify at least three things you can do to highlight your strengths.
Only a few seats remain for Game-Changer. We start in two weeks. Inside, I'll help you identify with precision exactly what your strengths are, what your weaknesses are, and how to use this awareness to dominate your industry.
This program is about to set the standard for success mindset training. You can quote me on that. Go check it out.
– Becky
https://rebeccatdickson.com/wp-content/uploads/2021/06/Logo_signature_06182021.jpg
0
0
Rebecca T. Dickson
https://rebeccatdickson.com/wp-content/uploads/2021/06/Logo_signature_06182021.jpg
Rebecca T. Dickson
2019-03-25 09:00:25
2019-03-24 18:14:44
What you already have going on