*
There's a distinct difference between the type of selling most under-earning women entrepreneurs attempt…
And the type of selling
that actually works

.

Many, many (too many) women are dipping their toes into the internet waters with an occasional offer, a hint about their new program.

They dabble. They don't want to be "too pushy." They can't get past the idea that their posts might bother someone – never mind that they are sharing about a product or service they believe will actually HELP people.

They do one live stream or maybe two posts, and then cry in their Cheerios when no one buys.

But that's not selling. That's bullshit.
Sales, ultimately, is about the transfer of belief.
It's about YOU sharing your expertise in a way that makes your people want more – lots more.
It's about believing so strongly in your product or service, they know they'd be crazy not to get in on it.
It's about never, ever relying on likes, comments or mundane metrics (hello, number of page visits) to validate you or your work.
If you're reading this, you probably haven't yet had the experience of showing up and selling out your offers.
Enter 'This Is How You SELL.'
My brand new two-part training program to show you how the pros get it done, get traction, keep momentum and make bank.
Hint: It isn't by creating one post, waiting for likes and comments and purchases — and when they don't come, then telling yourself you're not cut out for online business and giving up. Or some silly variation thereof.
By the way, that also does not mean the pros sell out every offer.
What the best in the business can do in spades is dust themselves off and keep on trucking. There is no failure, no bad launch, no fatal mistake. We gain knowledge and then either create something new or redesign how we are selling a particular offer.
It's called R-E-S-I-L-I-E-N-C-E. And that's how you win.

*
Real talk…
If you want to make it online, you need three things.
You better believe you can help people.
You better never, ever rely external validation (because it won't come).
You better expect to make mistakes and never let them stop you.
And if you don't have those three things, this program is where you learn to give them to yourself.
The truth is, the world's most successful people know they have a gift to share and don't care what naysayers might think. They also expect to fuck up, fall down and make a mess – because they know it's how they will get better. It's called failing forward.
And these are the mindset skills necessary to truly SELL.
'This Is How You SELL' is for…
The woman who is tired of playing in the shallow end, never sure what to say, how to say it, how often to show up or even where to post.
The woman who is ready to go ALL IN on herself and her business and own her power, but can't figure out how to start.
The woman who is ready to let go of her limiting beliefs about sales being sleazy or that she's "bothering" people with her offers.
The woman who TRUSTS herself and the power of her skills (or is ready to step into it right now).
The woman who wants to get even more ridiculously clear and honest with herself about who she is, what she wants and deserves, and where she's going. Because she knows The Next Level is better than anything she's even allowed herself to imagine.
---
Want in?


Total Value $5,900 – Your Investment: $597
Installments Available
---
Don't let yourself miss this.
In this two-part video training, I cover all of the above, and a hell of a lot more about the mindset of sales, success and what it takes to make it online.
This is wisdom I have never before shared with anyone, outside of 1:1 clients. It's my tried and tested techniques and mindset skills to become a sales boss.
Yes, I will talk mindset. But I will also talk practical day-to-day application of visibility and sales: what to post, where to post, how often to post.
This training includes two meaty workbooks, journaling prompts, affirmations and thought-provoking questions to help you reflect and immediately shift beliefs that are not supporting you being the Sales Queen you know you're meant to be.
*
---
Inside, you get:
* How to create new core beliefs to support your life and business (SALES).
* The ONE question to ask yourself when you don't know what to do next.
* The real reason(s) we create things we don't want (like having no sales).
* What it looks like and feels like to enjoy your work and make (lots of) money, while being fully yourself.
* What true visibility means and how to commit to it.
* Why the marketing experts had it wrong when they said people need to see an offer 7 times.
* The Rule of Three (a guide for how and where to post).
* BONUS: My 5-step strategy for closing 80%+ on sales calls, plus two followup email templates.
* BONUS: 4 masterclasses (almost 7 hours of training) on content, copy, visibility, pricing and packaging, plus workbooks.
* And a whole lot more.
---
Because, let's face it…

You're not stepping up and out to share your stuff.
*
You're nowhere near visible enough.
*
And you're probably all up in your head about what random people – whose opinions don't matter a scintilla – might think of you.
*
Here's where that ends.
It's long past time for the waiting to end. No one is going to roll out the red carpet and invite you into the big leagues. You and you alone are responsible for claiming that space – to make an impact, make money and make yourself a name.
I'd love to show you how.
It's not hard. It doesn't take a long time.
But you will need courage to do things differently and the conviction that you CAN.
In sum, you walk away with:
Two in-depth video trainings and accompanying workbooks with my best selling techniques (normally reserved for 1:1  clients) to show you how to step into being a Sales Queen right now. (Value: $1997)
Journaling prompts and affirmations to shift negative beliefs immediately, and release old thought-patterns keeping you stuck and small. (Value: $597)
Insight into how Facebook and Instagram use ads (and how you can follow their lead with your content) (Value: $197)
How to step into radical self-belief NOW and finally let go of the fear that keeps you hiding (Value: $597)

Guidelines on what to post, where to post, how often to post — and why

. (Value: $597)

BONUS: 4 masterclasses (almost 7 hours of training) on content, copy, visibility, pricing and packaging, plus workbooks

. (Value: $997)

BONUS: My 5-step strategy for closing 80%+ on sales calls, plus two followup email templates

(Value: $997)
---
Want in?


Total Value $5,900 – Your Investment: $597
Installments Available
---
About Becky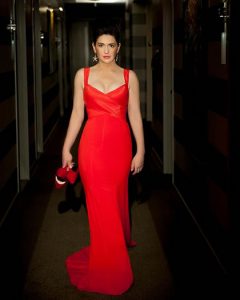 More than 14 years ago, when I was unemployed, broke and scared, and sick, I came across a book called Think and Grow Rich. Many of you, I'm sure, have read the Napoleon Hill classic. Up until that time, I'd never heard of thoughts shaping reality. Crap, I'd never heard of the word "manifest."
Despite all my doubts, I was tired and scared enough to put disbelief aside and read – and then implement. I decided to try believing in myself, in the concepts Hill outlined, in the possibility that my life could be better if I changed, rather than hoping the world or my circumstances would change. That little book altered my life forever.
I created a business I love, earning multiple millions of dollars each year. My relationships with family and friends became deeper, closer. I treated my body with the respect it deserved, ate well and slept, ultimately healing from agoraphobia, PTSD and panic disorder.
In the years since, I've continued to study, learn and grow. The Tao Te Ching, The Keys of Enoch, A Course in Miracles, Osho, Saint Germain, Neville Goddard and many more. I've taken too many courses and become certified in multiple personal development modalities. I've consumed Wayne Dyer, Eckhart Tolle, Alan Cohen, and Jerry and Esther Hicks like a rabid beast. And I've worked 1:1 with international industry leaders.
All of them point to one thing: You receive what you believe. That's the core of your entire life. I can't wait to show you how this one concept can change everything for you. It's time to SELL.
---
Want in?


Total Value $5,900 – Your Investment: $597
Installments Available
---
What others say…
---
Important Terms and Conditions
Refund Policy
All sales are final. We do not accept returns on products and our programs, including coaching, are non-refundable.
By purchasing this program you agree to the above terms and we invite you to view our full terms and conditions by clicking here.