Fear has killed more writers than anything else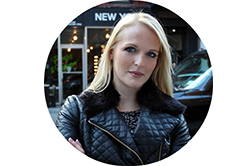 "Becky is not just ANY writing coach – ohhhhh no. If you're experiencing stuckage around your writing ability, she is THE writing coach brave enough to give you the loving kick up the ass you need to put pen to paper again and again and again. I've hired her twice. And I have no doubt I'll hire her again – sooner rather than later. Becky is the kind of bombshell you NEED to have on your team. Pure 'n' simple."
– Nikki Groom | Chief Ink Slinger, The F Factor
• • •
Let me guess . . .
You've got a story to tell, but you feel like you've been eyeballing your computer screen for HOURS, begging the muse (the gods and the universe) for some spark, some flash, some fucking explosion . . . SOMEthing that'll make the words flow.
Psst, here's a secret: You don't need a muse.
All you need is enough discipline to sit in the chair and write whatever comes to mind—and the belief that you and your words are VALUABLE.
And that's where I come in.
Need accountability from someone who's been there — down in the trenches, not believing in herself, in her words, in her story? Too afraid to get it wrong? Too afraid no one would appreciate what she had to say?
You found her.
I lived it, came out on the other side and basked in being the best goddamned writer I could be. How? By writing anyway.
That's what separates the amateurs from the professionals.

Because the more you write, the better your words become.
I'm here to tell you that you can do it.
NO ONE can tell your story like you. (And I'm going to show you how.)
After all, you owe it to the world to share your gift.
• • •
Write Raw is 12 weeks of one-on-one coaching for writers who want to write
more fearlessly and who are DONE with excuses.
 • • •
*
What you get from me
• Weekly purpose-filled, get-off-your-ass phone sessions. (You choose how many.) This is personalized advice designed for YOU and YOUR writing. Because no two writers have the same style or process.
• A personalized plan to get — and keep — you on track. Exactly what you need, no more and no less. Tackle whatever's standing in your way, step by motherf*cking step. When you're up writing at 3 o'clock in the morning and feeling stuck, your plan will be there to give you focus. Check off each item as you complete it and give yourself a pat on the back.
• A complimentary copy of The Definitive Guide to Writing on Your Terms, Using Your Own, Honest-to-God, Gut-Wrenching Voice. A #1 Amazon Bestseller and THE go-to book to get you writing ASAP with power and conviction.
• Editing. If you write it, I'll spit 'n polish it. You choose the word limit in the packages below. I'll even show you the tools I use so you can continue to improve loooong after our time together is through. We're talking specific feedback of the no-holds-barred variety.
• Unlimited email access. Can you put a price on unlimited access to a like-minded professional who cares about you and your words? We will get shit done.
What you walk away with
The belief that you can write the way you always thought you could.
The know-how to tell your story without fear — and with style and substance.
Moxie, goddamnit. The confidence that only comes from doing. (Trust me, it's gooooood.)
Actual written, edited words that make you feel fucking fabulous every time you look at 'em.
So if you're thinking . . .
I work 12-hour days. I'm exhausted. And I'll be too zonked to go to work if I stay up late writing.
I have kids and a husband and a full-time job. My family needs me.
I can't afford it.
I don't have time.
My writing sucks.
Know this: You can come up with a million and one excuses for NOT writing. But if this is something you've been silently dreaming about, or openly talking about since forever, don't you owe it to yourself to at least try?
The only way you're going to write is if you . . . (you guessed it) WRITE.
Can you muscle through an occasional workday on a little less sleep and an extra coffee or two?
Will your family be supportive of the fact you need an extra hour to yourself every day to do what you love?
If you're barely getting by doing a job you hate, how about investing in yourself, in your dreams and in your writing instead? (How can you afford NOT to?)

(And for the record, good writers always think their stuff is crap. Only shitty writers believe they're any good.)
Ernest Hemingway — Nobel Prize in Literature, Pulitzer Prize for Fiction, Bronze Star Medal — said the most terrifying thing he ever encountered was "a blank sheet of paper."
FEAR SUCKS. So stop making excuses, admit you're scared and write anyway.
*
"A month ago I was in a rut. Despite having already published three novels (and about to publish my fourth), my writing was absolutely stalled. There were a lot of reasons for it. No, scrap that, I had a lot of excuses for not writing. So I did the only sensible thing: I called on Becky. She worked with me to get to the heart of the problem. She gave me support, strategies and a plan. She held me accountable. We started off slow and easy and, as I regained my confidence, she upped the anti.

Within four weeks, not only am I writing again, but I'm more confident. I've written a third of the draft of my next novel and I know exactly where I'm going. I know how to manage my time, emotions and self-doubt so I can keep moving forward and complete this (and future) projects."

– Clare Davidson | bestselling author of Reaper's Rhythm, Broken Bargain and Trinity
• • •

 "Rebecca T. Dickson transformed my career. She unearthed the true power of my writing by banishing mediocrity, forcing efficiency in my language and holding me accountable for every word. Dickson is relentless in her drive to bring out your best. After working with her, I feel proud, confident and accomplished."

- J. Thorn, Amazon Top 5 Horror Author

*
Coaching packages are listed below.
Private 1:1 VIP Intensive Day
$2497
Highly customized 5-hour session for you and your writing project
A radical leap for you and your book
We map it out, complete the outline and get you in touch and on board with every resource you need
And we uncover what's really blocking you, so we can create a plan to get it done
Gold Write Raw
$5497 for 3 months
Welcome packet to help you get ultra-clear on your goals and identify your strengths
45-minute purpose-filled, get-off-your-ass phone sessions – 6 per month
Personalized writing plan
Up to 15,000 words per month edited
Unlimited email access
A copy of The Guide
Platinum Write Raw
$7497 for 3 months
Welcome packet to help you get ultra-clear on your goals and identify your strengths
45-minute purpose-filled, get-off-your-ass phone sessions each week – 10 per month
Personalized writing plan
Up to 25,000 words per month edited
Unlimited email access
A copy of The Guide
Committed and highly motivated writers can move mountains. Together, we break bad habits and develop a strong writing routine you enjoy.
Ready to be a better writer?
• • •
Stuff they say about me… and I like it.
Legal disclaimer: I'm an expert at what I do. I've got the street cred. The experience. The skills. And the qualifications. However, we should probably give a group nod to the fact that I am not a licensed psychologist or health care professional, and my services don't replace the care of psychologists or other healthcare professionals. (Though I do own a pretty impressive brown leather couch, so there's that.) With that comes the standard eye-glaze inducing disclaimer that, no, I cannot actually guarantee the outcome of our coaching efforts and/or recommendations on my website/blog/email series, and my comments about the outcome are expressions of (my very personal) opinion only. I can guarantee you this, however: I will do my best to coach you, and I'll do everything in my power to help.