*
Welcome to the 2023 Virtual Retreat
A Mindset and Business-Building Retreat from the comfort of your home.
It's time to get busy.
*
Everyone has hopes and dreams.
Everyone thinks tomorrow will be different.
Precious few actually take steps to ensure it WILL be different.
Which is why most people live the same day, month and year over and over, frustrated with the same results.
But not you.
If you're reading this, you already know you need support to shift out of your old ways in order to grab your dreams with both hands. Because, hey, who doesn't?
You already know that if you could do it yourself, you would have by now.
You already know you're done waiting for someday.
You're committed to making it happen NOW.
You know you'll never shift the behaviors or get the clients or the cash with the same thinking and actions.
It's time to change it up with the guidance of an expert whose been exactly where you are now.
Inside the 2023 Retreat, you…
Clear out the crap, let go of beliefs and behaviors holding you back.
Set your intentions for a new future (which begins at this retreat).
Craft a plan to get.them.all.
Decree and declare what you will no longer tolerate.
Take a stand for the dreams you say matter most and form an action plan to have them.
Learn how to regulate your nervous system.
Connect with other powerful women intent on rising.
And much more.
This is a three-day experience to show you how to move powerfully toward your goals and map out a clear plan to reach them.
We'll talk resilience, inner knowing (trusting yourself), discernment, stuck emotions, subconscious sabotage, levels of tolerance, laser focus, rewiring your mind, income ceilings, and a hell of a lot more.
You have two options
Regular track
Three days of online work, led live by me, where we go deep into what's not going to hold you back anymore and craft a plan for where you want to be.
VIP track
All of the above, PLUS a private 1:1 one-hour session with Becky and two weeks of email access to her personally.
Seats are limited.
We start Thursday, March 23, 2023, with two hours of digging deep. What's been in your way? How have you sabotaged your progress? What beliefs or fears (or both) are you holding onto that could waylay you again?
Friday and Saturday, March 24 and 25, are full on from 11 a.m. to 4 p.m. (See full schedule below.) Both days, we look at exactly where you want to be in 12 months and what is necessary to get you there. Then we craft the plan to do it.
Along the way, we dig up the limiting beliefs and fears that could hold you back – and arm you with tools to make sure it never happens again. Think somatic exercises to release stored pain and blocks, mindset exercises to reframe old ideas, and a combo of both to get that crap out of your cells. These are tools you will use forever.
All sessions will be recorded and available to you for life. 
---
Registration Options
Regular Track: $997
(includes 3-day retreat)
Installments available.

VIP Track: $1,700

(includes retreat and 1:1 session and email access)
Installments available

Seats are limited.
.
---

No more fuckery
Your bullshit fears, false beliefs, old patterns and mechanisms of sabotage come here to die. Yes, on some level, we always have them. But there is a difference between KNOWING what yours are and knowing how to manage them, versus letting them run your life and, therefore, allowing them to predict the same mediocre results.

High-octane fuel
Nothing says HELL YES like a community of women with the same purpose. Something happens when we come together this way, get honest about our fears and limiting beliefs and choose to release them. I've seen it over and over – and over – in my retreats and group programs. You will gather more energy and inspiration from the women around you. You will feel supported like never before. You will leave knowing how to give this feeling to yourself forever.
Rapid results
The only way you can fail after this experience is if you choose to not implement. A bold claim, I know. But I say it with complete conviction based on 15 years of this work. Trust the process. Be honest about where you know you hold yourself back. Give yourself permission to rise. None of this takes a long time. None of this is hard. (Unless you want it to be.)
---
Schedule
Thursday, 5 to 7 p.m. ET – Kick-Off
Here, we bring to the surface all the crap we hold onto so we can release it. You cannot get where you want to go if you don't ditch the blocks first. And you can't see the blocks unless you have someone with a microscope helping you look for them. (The mind is sneaky that way.) We will use this time to clean out everything in the way, so we can start fresh and move toward our goals with lightning speed.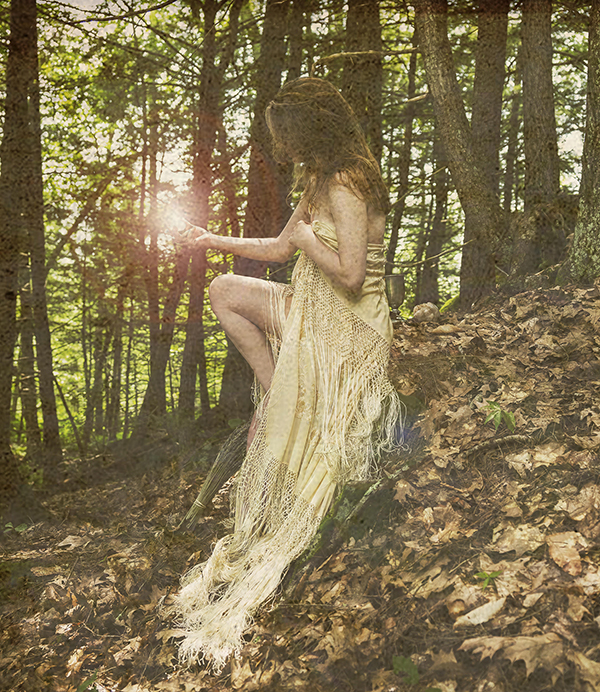 Friday, 11 a.m. ET – Radical honesty
It's time to get clear, get serious and get what we say we want. No more excuses or distractions, no more settling. This is where we get radically honest about what we want and deserve, minus the fear that tells us we can't or don't know how.
1 p.m. ET – Lunch
1:30 p.m. ET – Reclamation
Now that you've admitted what you truly want, we start planning how to get it. Along the way, your mind will create seemingly brilliant "reasons" you can't have it. We will continue to release that crap, reframe it and arm you with the tools to keep doing it long after the retreat ends.
3:30 p.m. ET – Wrap up
Rapid fire Q&A
Saturday, 11 a.m. ET – Reinvigorate
We start with a recap. Experience has taught me that the first day of these retreats is intense. Most women will wakeup with a head full of what-ifs. We address those first, then get back to planning. We'll talk goal-setting, staying on track, scheduling for success, eliminating distractions, delegating, and aligning to who you want to become.
1 p.m. ET – Lunch
1:30 p.m. ET – Recommit
We get real about how we have been living up until now and what needs to change immediately in order to get the goals you want. Because it's easy to give this stuff lip-service and more difficult to see where you need to adjust your life to prioritize what you want.
3:30 p.m. ET – Wrap up
Rapid fire Q&A
---

How it works
As soon as you register, you will receive a welcome email with all the links to join the live calls.
We host all sessions on Zoom and you will have the recordings for life.
Becky will be live with you and you can ask any questions or address any concerns throughout all three days.
If you miss part of a session, no worries. You have the recordings forever.
Snag a VIP seat and you will also receive a 1:1 session with Becky, PLUS two weeks email access to her personally.
---
Join Us March 23-25, 2023
All sessions will be recorded and you have lifetime access.
Registration Options
Regular Track: $997
(includes 3-day retreat)
Installments available.

VIP Track: $1700

(includes retreat and 1:1 session and email access)
Installments available

Seats are limited.
---
What others say…
"I can't believe that it's been almost a month since our Virtual Retreat… I have declared my expert status and am running my business from a very different place now.
So what I would say to someone who is considering attending is:
Be prepared for some serious ass-kicking. Rebecca T. Dickson will hold you to the fire, asking probing questions about your life and your mindset rather than just being business focused because, as she said to us repeatedly, how you do one thing is how you do everything. She will not give you surface-level tactics to address your money mindset but will go DEEP and help you to find the answers for yourself."
– Victoria
---
"The money mindset retreat blew me away! It far exceeded all my expectations, and I had high expectations. Becky is definitely a bullshit slayer, but you can feel it comes from a deep place of caring and wanting you to succeed. I had massive shifts on all levels from the coaching I received from Becky AND had huge shifts from watching her coach others. All the other women were amazing. Sign up NOW if you want to have massive shifts in your business and life."
– Colleen
---
"I wasn't prepared for such a deep dive into how our relationships with money impact how we conduct business, treat others and especially treat ourselves.
Becky has the ability to help you expose any and all obstacles that may be holding you back…Becky tells it like it is, minces no words and will be the first to kick you in the ass to keep you moving forward. She will also be the first to cheer for you on your journey. I can't contain myself. I'm so excited to be here.
Going on this virtual retreat has given me the motivation and desire to look for and be my best self every day."
– Elizabeth A.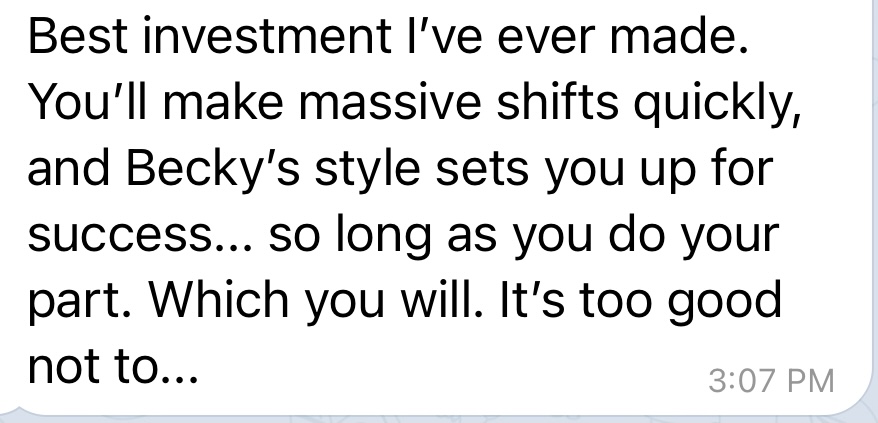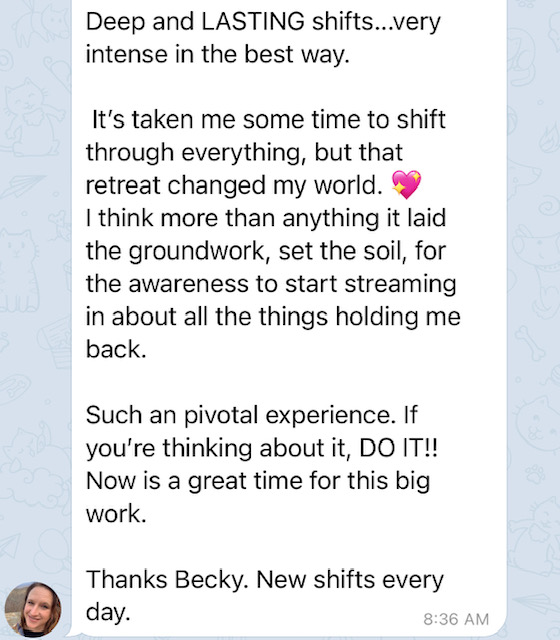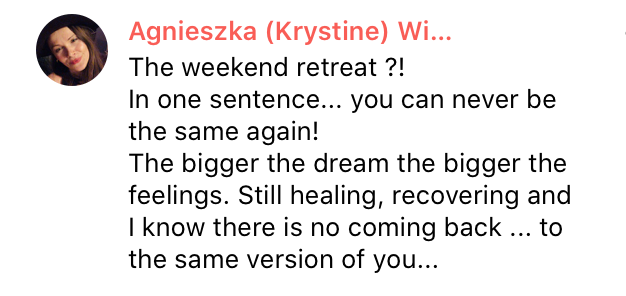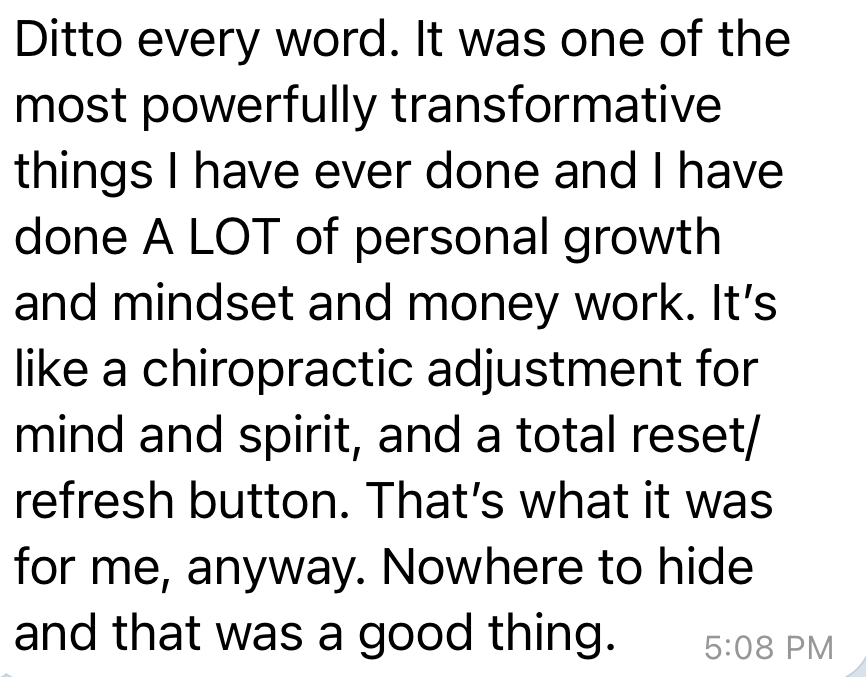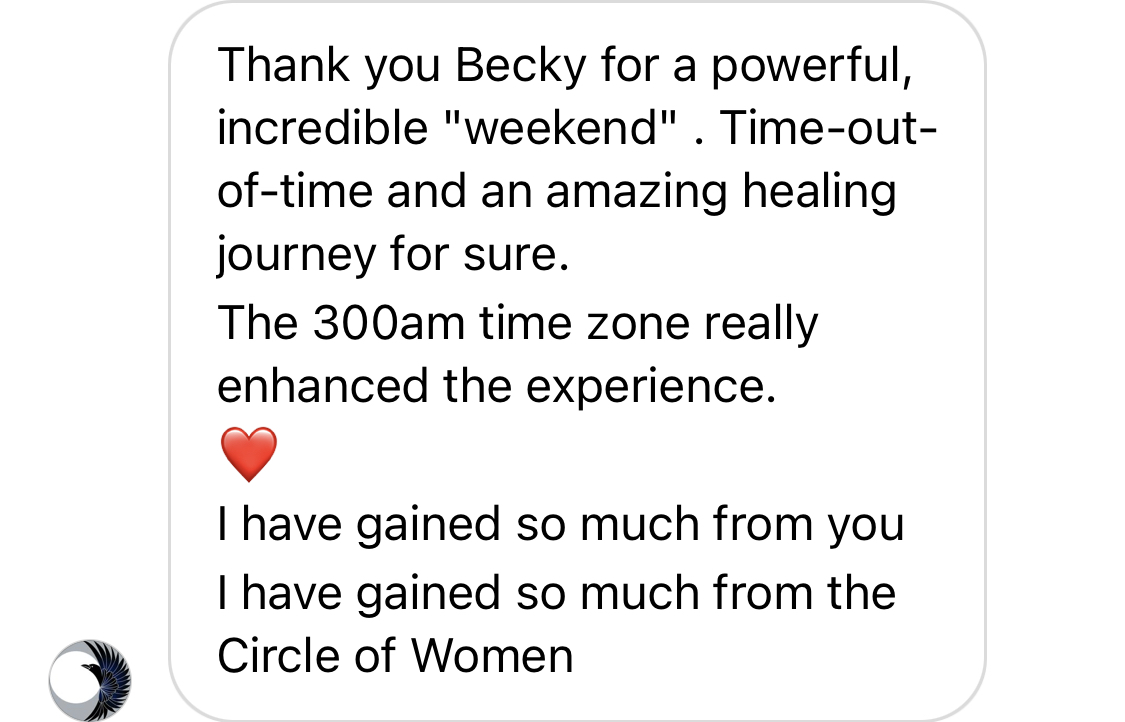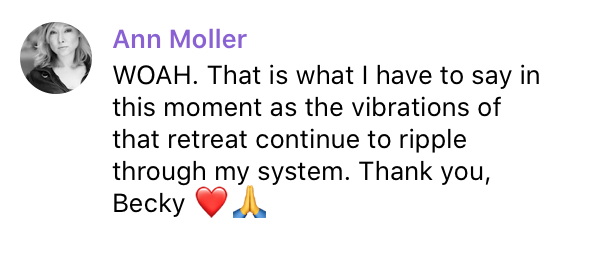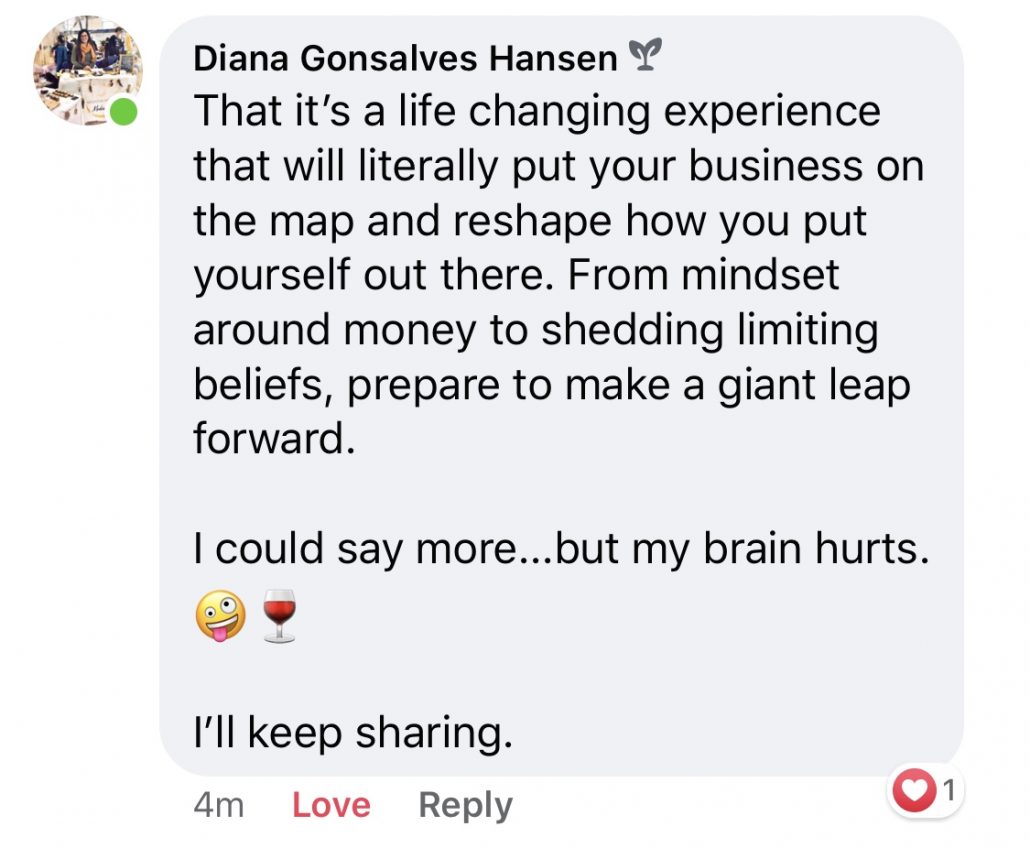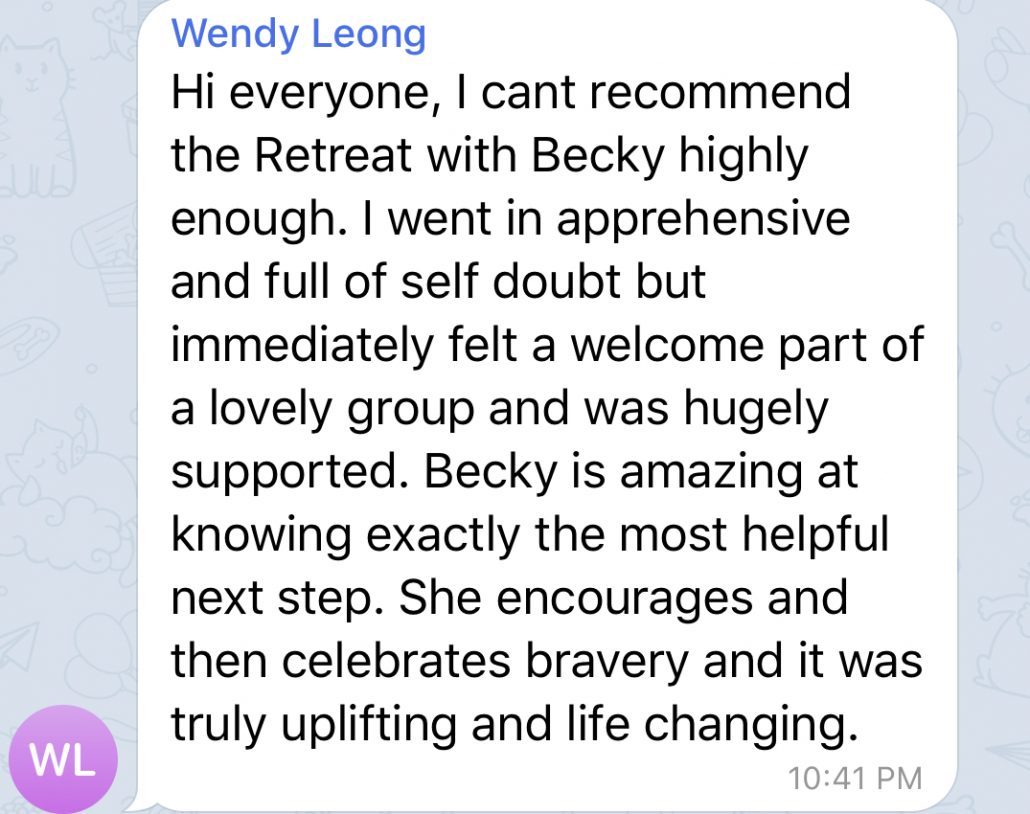 *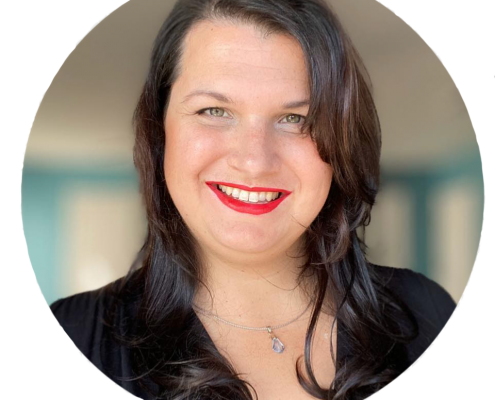 What I love about working with Becky, is that she facilitates rapid, radical, and lasting shifts… You experience a deep transformation, and will gain tools and insights that will work for you & on your behalf long after the session has ended…
We were able to uncover, reframe, and recreate a whole new outlook on how I see myself, how I operate, and therefore who am I as a being, mom, wife, business owner. A whole new strategy for continuous growth that is closely aligned to new-gained clarity and ambitions. And most importantly, tune into a whole new frequency in a short amount of time. No, it really doesn't have to take long, but the results that came from it are ongoing. – Sara Oblak Speicher
---
---
Registration Options
Regular Track: $997
(includes 3-day retreat)
Installments available.

VIP Track: $1,700

(includes retreat and 1:1 session and email access)
Installments available

Seats are limited.
---
Important Terms and Conditions
Refund Policy
All sales are final. We do not accept returns on products and our programs, including coaching, are non-refundable.
By purchasing this program you agree to the above terms and we invite you to view our full terms and conditions by clicking here.